Hermance 2019 Expo - May 8th & 9th, 2019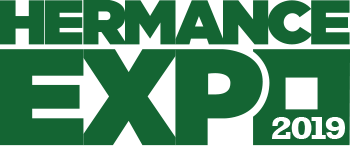 2019 Expo Highlights
40+ Top Brands Represented
Great expo-only deals on select machines
2 Days Packed with Machine Demos, Information Seminars, and the Latest Technology in the Industry
Pre-register for a chance to win a door prize
Event Details
Machine Demos/Seminars
**Door Prizes**
Exhibitors
Hotel Accomodations
For more information, please contact Hermance at (866) 326-8131 or email sales@hermance.com
2019 Expo Machine Demos
Demos will be added soon
Our 2019 Door Prizes
Below is a list of the door prized that will be drawn during the 2019 Hermance Expo. Check back often as the door prizes are still being added!
You must pre-register and attend the expo to be eligible for door prizes!
Prize Photo

Prize Information

OMGA model 1L300 Compound Miter Saw

Exclusively designed to clamp up to 1,000lbs of pressure and hold the most elite woodworking projects.
Positive stops at 45, 30, 22 1/2 and 15 degrees on both sides of the rotation
A manual locking device for all the intermediate angles provides a great flexibility to this unit.
Dontated by OMGA

Jet DC-1100VX-BK Dust Collector 1.5HP 1Ph 115/230V 30-Micron Bag Filter Kit.

Vortex Cone improves chip separation and collector bag packing efficiency
Eliminates premature filter clogging for sustained performance
Single-stage design for economical and quiet operation
Dontated by Jet

Kreg DB210 Foreman Pocket Hole Machine

Professional-Grade Pocket-Hole Machine
Extremely Easy to Setup and Use
Creates All Three Types of Kreg Joints
Dontated by Kreg

Accurate Technology ProScale Planer/Sander Kit

includes everything you need to add digital measuring capability to your Planer, Sander or virtually any other tool with 10 inches or less of positioning range.
LCD Readout: Low power LCD with Auto Off/On
Easy mounting: from behind or through readout case.
Dontated by Accurate Technology

$500 TigerStop Gift Card

$50 Hermance Gift Card

$50 Hermance Gift Card

$50 Hermance Gift Card

$50 Hermance Gift Card

$50 Hermance Gift Card

$50 Hermance Gift Card

1 lb of Coffee

1 lb of Coffee

1 lb of Coffee
Expo Exhibitors
The following manufacturers and companies will be exhibiting at this year's expo. Manufacturer representatives will be available both days of the expo to answer any particular questions geared towards your specific applications and needs.
Williamsport Area Hotel Accomodations
Listed below is a list of hotel accommodations in the area surrounding Hermance Machine Company to assist you in planning your trip, hotels have recommended booking early to ensure availability. There are special rates at the Hampton Inn and Suites and the Holiday Inn

Towne Place Suite

10 West Church Street
Williamsport, PA
(570) 567-7467

Holiday Inn Express

90 Pine Street
Williamsport, PA
(570) 327-5292

Residence Inn

150 West Church Street
Williamsport, PA
(570) 505-3140

Holiday Inn Williamsport

100 Pine Street
Williamsport, PA
(877) 863-4780

Hampton Inn Williamsport

140 Via Bella Street
Williamsport, PA
(570) 323-6190

Fairfield Inn

104 Maynard Street
Williamsport, PA
(570) 601-9200

Genetti Hotel & Suites

200 W 4th Street
Williamsport, PA
(570) 326-6600

Peter Herdic Inn

411 West 4th Street
Williamsport, PA
(570) 326-0411

Days Inn

234 US Hwy 15.
Williamsport, PA
(570) 323-9801

Candlewood Suites

1839 East 3rd Street
Williamsport, PA
(570) 601-9100

Best Western

1840 E. 3rd Street
Williamsport, PA
(570) 326-1981

Comfort Inn

1959 East 3rd Street
Williamsport, PA
(570) 601-9300

Econo Lodge

2019 East 3rd Street
Williamsport, PA
(570) 326-1501

Super 8

2815 Old Montoursville Road
Montoursville, PA
(570) 368-8111