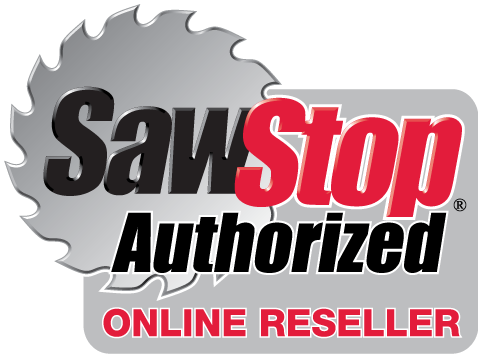 SawStop's 10 inch Professional Cabinet Saw combines safety, quality, and value to provide superior performance, high quality features, and the revolutionary safety feature from SawStop.
Product Highlights:
- High quality Professional T-Glide fence system and gas assisted elevation system
- SawStop's patented safety system which stops the blade within 5 milliseconds of detecting contact with skin
- Superior dust collection that collects up to 99.5% of particulates, keeping dust from your lungs
- Tool-free quick-change insert and blade guard
More Info:
- Powerful 3 HP motor, the PCS delivers high levels of power and can be plugged in to a standard 230-volt outlet.
- The elevation and tilt mechanisms use self-cleaning teeth to keep debris free from key internal mechanisms.
- Powder-coated cabinet resists rust and corrosion ensuring stability and reliability for years to come.
- Adjust the blade and table alignment with precision.
- Extension table legs bolt to the rails rather than the table reducing the risk of damage to the table during movement.
Free shipping does not include fees for residential or lift-gate delivery. Residential and lift-gate delivery fees will be added at your shopping cart based on the method of shipping you choose.

| | |
| --- | --- |
| Model Option Selected | PCS31230: 36" rip capacity & Premium Fence Assembly |
| Overall Saw Dimensions | 69 1/8" W x 33" D x 34" H |
| Motor | PCS31230: 3 HP, 1 phase, 230v, 13 A, Plug: NEMA 6-15P w/9' cord |
| Cabinet Footprint | 19 3/8" W x 19 3/8" D |
| Cast Iron Table | 20" W x 27" D |
| Extension Wings | 12" W x 27" D each |
| Cast Iron Table (w/ Extension Wings) | 44" W x 27" D |
| Extension Table | 23 ¾" W x 27" D |
| Shipping Weight | 505 lbs |
| Shipping Dimensions (saw body only) | 43" W x 31" D x 30" H, 42"Wx31"Dx30"H |
| Shipping Weight (appox) saw body only | 400 lbs |
| Assembled Weight | 426 lbs |
| Weights - Table Saw Only | 335 lbs |
| Blade | 40-tooth, prof. grade, 5/8" arbor |
| Blade Diameter | 10" |
| Blade Tilt | Left |
| Blade Kerf | 0.118" (3mm) |
| Blade Plate Thickness | 0.078" (2mm) |
| Max. Depth of Cut, Blade at 0º | 3 1/8" |
| Max. Depth of Cut, blade at 45º | 2 1/4" |
| Max. Rip, Right of Blade | 36" (w/ 36" rails) |
| Max. Rip, Left of Blade | 12" |
| Dado Diameter | 8" (requires 8R2 brake, dado insert) |
| Dado Max. Width | 13/16" |
| Arbor Diameter at Blade | 5/8" |
| Main Bearing Size | 62mm OD x 30mm ID |
| Second Bearing Size | 52mm OD x 25mm ID |
| Table in Front of Blade (Max. Elevation) | 10 1/4" |
| Table Behind Blade (Max. Elevation) | 7 1/2" |
| Arbor Runout | 0.001" Maximum allowable runout |
| Table Flatness Measured Diagonally | 0.010" Maximum gap |
| Blade Alignment with Miter Slot | 0.010" Maximum displacement |
| Deviation of Miter Gauge Indexing Stops From Actual | ±0.25º |
| Alignment Between Splitter and Blade | 0.010" Maximum difference |
| Miter Slots T-shaped | 3/4" at top, 1" at bottom, 3/8" deep |
| Miter Slots Center | 11 1/8" center-to-center |
| Miter Slots Info | 5 1/2" (arbor flange to center of right slot) |
| Dust Collection Port Diameter | 4" |
| Riving Knife / Splitter Thickness | 0.090" (2.3 mm) |
| Dust Collection Blade Guard (STANDARD) | polycarbonate, extends 1-3/16" right of blade |
| Insert | zero clearance, phenolic core, melamine surfaces |
| Hand Wheels | 7" diameter, cast iron w/ chrome handle |
| Belts | 2 V-ribbed belts - arbor b. static dissipative |
Beekeeper/Machinist
Ken Gairson
Spokane
9/27/2013